What Is Name Combiner?
Name Combiner Generator is a tool that will give you a combination of two names. You can use the name combiner tool to make a new name.
Do You Want A Perfect Combo Of Two Names or Nick's Name?
A name combiner or Name Mixer is an amazing tool for a combination of two names to make one. It is great! Let's create a superb name for couples, friends, or Babies. If you want a beautiful combo name by any of 2 names, you can get it here. We are 100% sure that this name combiner will always provide you with fantastic mixed names.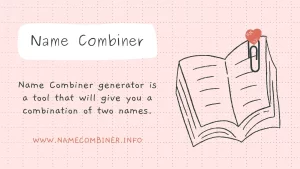 And guess what? This tool will generate the maximum number of name combinations for you in just a few seconds. You just have to pick one or more. Definitely! You will pick that name which would be loved by you.
So, let's go and explore this amazing name mixer tool.
We guarantee you, you will be amazed by getting this tool result.
Benefits of Name Combiner Generator: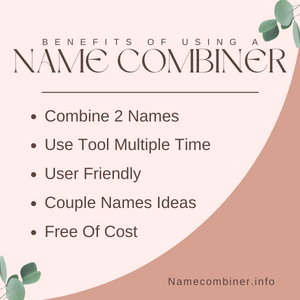 The name combiner generator will combine 2 names very perfectly.
This combiner allows you to put two names to generate new names multiple times.

This Tool shows full responsiveness for users.

You will get hundreds of perfect names here.
This name combiner can be used for several purposes, depending on your requirements.

All the names that will be displayed, will be unique and nonrepetitive.

You can use this tool

for your relationship name and for your business.

You can get a cute baby name as a mixture of mom's and dad's names.

You can blend your name with your favorite pet.

You can utilize this name combiner as a business owner's surname.

If you are going to launch a new brand, use it for getting a name as a mixture of you your business partner's name.

This tool is completely free to use for everyone.
Purpose Of Names Combination Generator And Mixer Tool:
You can use this name mixer generator tool for several purposes. You can combine multiple names into a new one.
So, let's discuss the most common objective of this tool.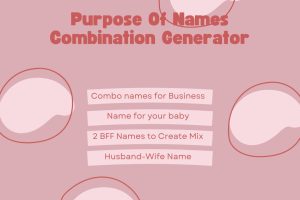 1. Names For Business, Company Brand
It is the best choice for you to use this name combination generator for business if you are in a partnership business. Let me explain how can it be helpful in that scenario.
Suppose, both partners are confused about choosing the name of your business brand. This will generate a new name as the combination of your partner's names.
2. Name Combiner For Baby
If you are going to have a baby or twin babies, and now you want to choose a beautiful name, you can use this tool. The combiner will mix the mother's and father's names, and the given name will be the combination of the names of the parents of the babies.
You just have to enter both names in the tool. This name combiner for baby boy and girl will provide a number of cute names for your baby, you will be allowed to pick one of them that will attract you more.
3. Combine 2 BFF Names To Create One
You can surprise your friend with this name combination tool for friends if you have a BFF (Best Friend Forever). You can mix your name together with your friend's name.
Not only that, but you know what? Friendship is so precious, so why you are not giving a precious name to your friendship?? Yes! It's an amazing idea that will amaze your friend. You can get cute friendship names and make a tattoo of that name.
4. Couple Ship Name Generator
Do you want a cute couple name for your partner, boyfriend, or girlfriend? Our romantic couple
ship name generator
will combine the names of lovers and is committed to providing you with a lovely name for your couple. You can use this awesome tool to give a surprise to your partner.
These 2 blended names will represent girlfriend and boyfriend & husband & wife. This tool is for you if you want to impress other people also on social media like
Facebook
, and
Instagram
. Your cute couple's name will become the identity of your relationship.
5. Mix Husband-Wife Name For Wedding
You can surprise your husband at your wedding with this couple name combiner or generator tool for a husband-wife name combination. You can make a lovely name for your husband.
6. Nick Name
You can create a perfect nickname with this name combiner for your baby, husband, boyfriend, or even for yourself.
7. Gay Name
If you are Gay and want to merge your name with your partner's, this tool is an excellent option.
8. Lesbian Name
If you are a lesbian couple and want to combine your names, this tool is an ideal solution.
9. Pet Names
With this amazing tool, you can effortlessly merge your own name with your beloved pet's name, resulting in a unique and fantastic new nickname for your furry friend.
Method To Use Stylish Name Combiner:
Mix names together or word mixer generator is another name of this tool that has the same function to combine names. It is an easy-to-use tool that will provide you with instant results.
Let's follow this little guidance to get a combo or fusion name.
First of all, are you assured you are having a stable internet connection? If the answer is "Yes" so let's go!

Now join us on our exclusive website, namecombiner.info by using any browser of your choice.

After landing on the website, you have to search for "Two name combiner tool". I hope so you'll get it easily.

After getting that tool, you have to click on it.

Once you have clicked on it, the next page will be opened in front of your eyes.

Here you can see 2 options, first name & second name.
The thing you have to do is just enter the 1st person & 2nd person names in the boxes.

After putting the names, click on the "combine" button that is in blue.

A combination of two names to make one will combine both names in instant motion and will give you many names as a mixture of your input.

All the names will be unique and superb.

The results will be shown as 1st name + 2nd name (combo) and 2nd name + 1st name (combo).

You can choose the name from both categories.

Definitely, you will pick that name which will attract you more.

You can copy these names as well.

Also, you can use this ship name maker

multiple times and for multiple purposes.

You have to just press the "clear" button to enter new names.
Start using it again.
.
Frequently Asked Questions